This site contains information for current & prospective residents of Ridge Harbor.  Ridge Harbor is located at mile marker 46, on the south shore of Lake Travis.

Property Owners – YOUR Vote Counts
Please review all info and document links below for details.  You may vote electronically or via paper ballot which must be returned by 2/18/17.
There are 2 ways to vote in the Ridge Harbor POA Election



 If voting by paper ballot (packet received either at the Annual Meeting or via USPS).
o Cast your vote, sign, and return in the self-addressed envelope before 2/18/2017, or you can print the ballot below and mail to:  Ridge Harbor Property Owners Association, P.O. Box 638, Spicewood, Texas 78669
 If voting electronically
o There is no need to fill out and return the paper ballot.
o The company that facilitates the electronic voting is VoteHoaNow.com.
o You will receive an email from VoteHoaNow.com, using the email address we have on file for you, outlining the following:
  There will be instructions as to your specific passcode
  If you need to request a passcode, there is a link for that on the VoteHoaNow site. Your email address will need to match and a passcode will be emailed back.
  If your email address is not in the system, you cannot vote electronically.
  The VoteHoaNow web site will also send reminder emails about voting. If you have already voted, just delete them.
  If you have a new email address that is not in the system, let us know, and we will update our records. However, you will have to use the paper ballot for this election. If you have any questions regarding either the voting processes or what is being voted on, please contact a board member, or email your question(s) to RidgeHarbor.Board@gmail.com
Accompanying Documents Available HERE for Review
Reference :: FAQs related to the possible purchase of 32.5 Acres of land from the LCRA
2016 POA Board of Directors:
Julie Partridge- President

Linda Eicher – Vice President

Patricia Hodge – Secretary


Paul Kronbergs – Treasurer

 – Facilities
POSTED 12/9/2016 … ATTN Property Owners :: 2016 POA dues statements have been mailed.  If you d0 not receive yours, please email mlray22@yahoo.com.  Prompt payment will be greatly appreciated!
Directions:  Ridge Harbor Map |  Driving Directions from Austin or Hwy 281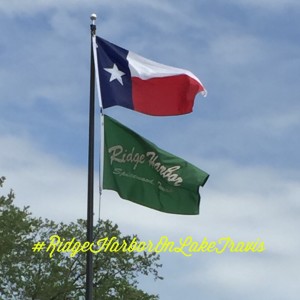 Flags fly HIGH at the Ridge Harbor Marina Park

Boat Slips at the Ridge Harbor Marina …. For Sale and/or For Lease are posted on the Marina Page of this site.
In need of

Pool Access, a Gate Opener, Gate Code?

… contact Janelle Fereday, 512-619-6693, jbfereday@gmail.com
Spicewood Lions Club : David Almond, 512-777-2616
Our Water | Our Future : Central Texas Water Coalition (CTWC)

LCRA Park Police

: 512 482-6322

Burnet County Sheriff, Non Emergencies

: 830-798-3202

Corix Water/Sewer

:  877-718-4396, Web Site

Pedernales Electric

: 830-868-7155
Connect with Ridge Harbor on Face Book
Join the Ridge Harbor NextDoor site :: PropertyOwners… Click Here
All property owners are invited to attend the Ridge Harbor POA Board Meetings.  The next Board Meeting will be: 
Monday, February 20, 2017, 6PM, The Hodge Residence, 100 Wesley Ridge Drive
Minutes from the Annual POA Meeting, January 21, 2017
January 2017, Board Meeting Minutes
December 2016, Board Meeting Minutes
November 2016, Board Meeting Minutes
This website is owned by Kathie Gabriel* and Sherri Curry and is used for information pertaining to the community of Ridge Harbor on Lake Travis in Spicewood, Texas.  All information is deemed reliable but not guaranteed.
*Kathie Gabriel is a licensed Realtor in the State of Texas  |  Required Disclosures
last updated January 24, 2017