This site contains information for current & prospective residents of Ridge Harbor.  Ridge Harbor is located at mile marker 46, on the south shore of Lake Travis.

Community Contact Info:
2017 POA Board of Directors:
Julie Partridge- President

Linda Eicher – Vice President

Patricia Hodge – Secretary


Paul Kronbergs – Treasurer

Dan Ellinor – Facilities Director

Email :: RidgeHarbor.Board@gmail.com
Directions:  Ridge Harbor Map |  Driving Directions from Austin or Hwy 281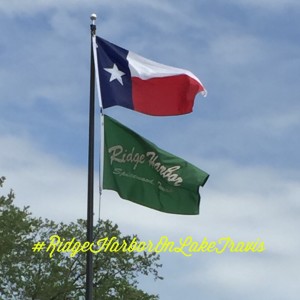 Flags fly HIGH at the Ridge Harbor Marina Park

Boat Slips at the Ridge Harbor Marina …. For Sale and/or For Lease are posted on the Marina Page of this site.
Connect with Ridge Harbor on Face Book
Join the Ridge Harbor NextDoor site :: PropertyOwners… Click Here
All property owners are invited to attend the Ridge Harbor POA Board Meetings  The next Board Meeting will be:  Monday, June 5, 2017, 6PM, at the Pool Pavilion (weather permitting)

May 2017, Board Meeting Minutes
April 2017, Board Meeting Minutes
March 2017, Board Meeting Minutes
February 2017, Board Meeting Minutes
This website is owned by Kathie Gabriel* and Sherri Curry and is used for information pertaining to the community of Ridge Harbor on Lake Travis in Spicewood, Texas.  All information is deemed reliable but not guaranteed.
*Kathie Gabriel is a licensed Realtor in the State of Texas  |  Required Disclosures
last updated June 9, 2017