This site contains information for current & prospective property owners of Ridge Harbor.  The community is located at mile marker 46, on the south shore of Lake Travis.
Community Contact Info:
2017 POA Board of Directors:
Julie Partridge- President

Linda Eicher – Vice President

Patricia Hodge – Secretary


Position currently vacant  – Facilities Director

Email :: RidgeHarbor.Board@gmail.com
Directions:  Ridge Harbor Map |  Driving Directions from Austin or Hwy 281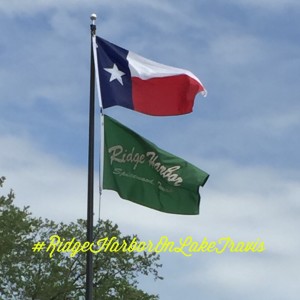 Flags fly HIGH at the Ridge Harbor Marina Park

Boat Slips at the Ridge Harbor Marina …. For Sale and/or For Lease are posted on the Marina Page of this site.
Connect with Ridge Harbor on Face Book
Join the Ridge Harbor NextDoor site :: PropertyOwners… Click Here
All property owners are invited to attend the Ridge Harbor POA Board Meetings
The next Board Meeting will be:  Monday, November 6, 2017, 6PM, (location tbd)

September 2017, Board Meeting Minutes
August 2017, Board Meeting Minutes
July 2017, Board Meeting Minutes
This website is owned by Kathie Gabriel* and Sherri Curry and is used for information pertaining to the community of Ridge Harbor on Lake Travis in Spicewood, Texas.  All information is deemed reliable but not guaranteed.
*Kathie Gabriel is a licensed Realtor in the State of Texas  |  Required Disclosures
last updated October 20, 2017