This site contains information for current & prospective residents of Ridge Harbor.  Ridge Harbor is located at mile marker 46, on the south shore of Lake Travis.

Photo doesn't really do justice to the brilliant sight of a double rainbow over the lake this morning …. Saturday, August 20th
2016 POA Board of Directors:
Julie Partridge- President

Linda Eicher – Vice President

Patricia Hodge – Secretary


Paul Kronbergs – Treasurer

Jim Wetz – Facilities
Directions:  Ridge Harbor Map |  Driving Directions from Austin or Hwy 281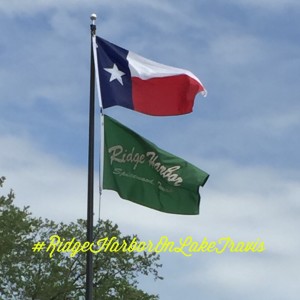 Flags are flying HIGH at the Ridge Harbor Marina Park

Boat Slips at the Ridge Harbor Marina …. For Sale and/or For Lease are posted on the Marina Page of this site.
In need of

Pool Access, a Gate Opener, Gate Code?

… contact Janelle Fereday, 512-619-6693, jbfereday@gmail.com
Spicewood Lions Club : David Almond, 512-777-2616
Our Water | Our Future : Central Texas Water Coalition (CTWC)

LCRA Park Police

: 512 482-6322

Burnet County Sheriff, Non Emergencies

: 830-798-3202

Corix Water/Sewer

:  877-718-4396, Web Site

Pedernales Electric

: 830-868-7155
Connect with Ridge Harbor on Face Book
Join the Ridge Harbor NextDoor site :: PropertyOwners… Click Here
All property owners are invited to attend the Ridge Harbor POA Board Meetings.  The next Board Meeting is scheduled for:  Tuesday, September 6, 2016, at 6pm  Location: Partridge Residence, 231 Cove Creek Drive

**Please note :: The Brush Pile is Closed – just a reminder the brush/shredding pile at the boat ramp is closed. This area is needed for boat/trailer parking only. Also, mulch is free for the taking.*
September 2016, Board Meeting Minutes
August 2016, Board Meeting Minutes
July 2016, Board Meeting Minutes
This website is owned by Kathie Gabriel* and Sherri Curry and is used for information pertaining to the community of Ridge Harbor on Lake Travis in Spicewood, Texas.  All information is deemed reliable but not guaranteed.
*Kathie Gabriel is a licensed Realtor in the State of Texas
last updated September 23, 2016